Marple
Marple is an iron icebreaker built by a railway company at Gorton Works for the Ashton and Peak Forest Canals c. 1850.
A big freeze in winter could mean nothing could move on the canals for days, so ice boats were an essential part of maintaining the canals and keeping them open for commercial traffic.
The boats used would have to be pretty solid as they had to force their way through several inches of ice. Marple had a couple of unusual features to assist with this work; although she had no framing installed, she has an external iron stern post reinforcement (made from a railway line)
In ice breaking mode, Marple would have been horse drawn with as many horses as were needed to keep moving. There might be up to 10 men, 5 a side, holding on to a central bar, rocking the boat violently from side to side.
Marple would have been attached to a repair unit and she would be hired out as and when required.
In the 1970s. she was being used as a maintenance boat by British Waterways and was known by the locals as 'Harry Moseley's boat'. Perhaps Harry Moseley was a bricklayer as, at one time, she was described as a bricklayer's boat. Originally she would not have had a name, acquiring her current name from working at Marple on the Peak Forest Canal.
A Register of Displacement mentions the boats once displaced from the repair unit and Marple is mentioned in the Northwich 'Register of Displacement' as being displaced by The Waterways Board on 1 November 1989 (records held at The National Waterways Museum, Gloucester). The records detail Marple as a 'maintenance flat, dumb icebreaker'. By 1990, she was seen in the BWB Northwich yard where she was probably awaiting disposal. Marple was acquired from British Waterways in 1995 for the National Waterways Museum and then on 10 August 2022, she was transferred to Saltisford Canal Trust in Warwick where she is displayed out of the water.
Chiltern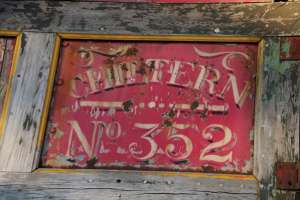 CHILTERN 09/1946 W/U 352 BHM 1627
As her original 9 hp Bolinder engine was not powerful enough to tow a butty, she worked as a single motor. She was later, possibly after nationalisation in 1948, fitted with the 3 cylinder Russell Newbury Engine. In 1950 Chiltern was inspected, at East 9, for the Docks and Inland Waterways Executive (subsequently renamed British Waterways). At the time her master was J. Bradley of Marple in Cheshire. The boat was registered for 3 adults in the aft cabin but, at the time, was only occupied by the master.
The Ashby coal run was her last commercial journey. Chas Hardern, aged 17, purchased the boat in 1971. Growing up by the Llangollen Canal, Chas had, from a relatively young age, had his heart set on working with the old commercial boats. Chiltern was converted, at Beeston Castle Wharf, to a camping boat accommodating 12 customers. For a while, she worked in tandum with Dorset.
In 1978, Chas brought Chiltern to Ellesmere Port for the Easter gathering of commercial boats. Used again for transporting cargo, she left the port loaded up with newspapers that had been collected by the Wirral Branch of the Friends of the Earth from various centres throughout the area. Her destination was the TPT Paper Mill on the Peak Forest Canal at Romily. Within a couple of weeks, Chiltern was purchased by the North West Museum of Inland Navigation and in 1985, with grant funding, Chiltern had an extensive rebuild to her stern end and cabin.
She was at Ellesmere Port Boat Museum for some years, before being being acquired by Saltisford Canal Trust in Warwick.